Simrad AP60 Autopilot System
The Simrad AP60 system is the latest addition to the award-winning family of Simrad autopilots. Replacing the renowned AP35, the AP60 is the most cost-effective autopilot system available on the market today, providing commercial vessels with the perfect balance of performance and price.
The Simrad AP60 is an entry level pilot packed with features often reserved for high-end autopilots. It completes the Simrad autopilot range, sitting just under the premium AP70 and AP80 systems.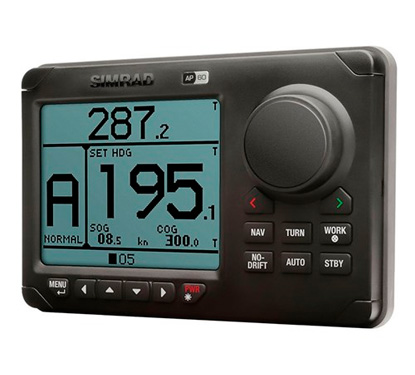 Highlights
The most cost-effective advanced autopilot system with thruster integration
Compatible with an extensive range of existing Simrad autopilot remote controllers and accessories
Two user configurable profiles; NORMAL and WORK –customize parameters to suit specific operations
Designed by the world leaders in autopilot technology
Backed by the Simrad Advantage Service program which includes 7 years of worldwide product support
Easy to Use
Based on the proven user interface of the AP70 and AP80, the Simrad AP60 autopilot system is incredibly easy to set up and use. The intuitive menu system and large, high contrast monochrome screen with clear digits make reading the display effortless. The heading control includes a rotary course control wheel, as well as dedicated WORK, AUTO and STANDBY buttons enabling simple performance selection depending on your task at sea.
Feature packed
The Simrad AP60 autopilot system includes two users configurable profiles: WORK and NORMAL. The operator could configure the WORK profile for trawling, towing or other operations, and switch from NORMAL to WORK with one press of a button. The AP60 includes NoDrift steering, thruster integration and turn patterns such as U-Turn and S-Turn – features you wouldn't expect to find in an entry level Autopilot.
Want to know more?
Contact one of our specialists for more information or a quotation, they are more than willing to assist.