Simrad AP70 Mk2 Autopilot Controller
The Simrad AP70 Mk2 is a dedicated autopilot controller designed to meet the needs of professional mariners aboard a variety of commercial vessels. Replacing both the AP70 and AP80 as our IMO/SOLAS autopilot controller, the AP70 Mk2 retains much of the well-reputed platform of its predecessors, but with a brilliant new display and modernized software interface.
Engineered for responsiveness, robustness and ease of use, the AP70 Mk2 pairs a precision rotary control dial with dedicated buttons for instant access to steering modes, several custom-configurable work modes and multiple rudder/thruster integration.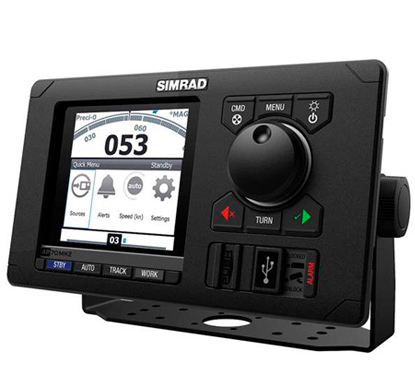 Features
Wheel marked for use on board SOLAS vessels (IMO, MED-B)
Advanced configuration and tuning options to suit all ships
Compatible with all common rudder/drive types
Up to 6 rudders/thrusters' integration
Heavy-duty rudder feedback support
Configurable work modes and low/high speed modes
No Drift steering holds course against wind and tide
Navigation Steering, Route Following
Command Transfer and Multiple Control Stations
Find Out More?
Contact one of our specialists for more information or a quotation!