Radio Zeeland Titan 100 Rudder Angle Indicator
The Radio Zeeland TITAN 100 rudder angle indicator set is extremely reliable and has proven its value throughout years of service. The TITAN-100 display unit can be set to personal preferences and can be used as a standalone device, in combination with the autopilot and as a repeater.
The small LCD display in the middle of the analogue gauge provides a digital read-out. This ensures a quick and orderly overview of the provided data. General information, feedback and functions are also indicated on the LCD display.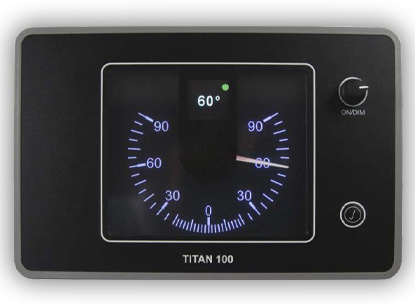 Sensors & Dimming
The TITAN-100 is operating with a P-100 smart rudder angle sensor. The P-100 can indicate all rudder angles without the use of sliding contacts. Because of the contactless rudder angle indication, the P-100 has a long and reliable lifespan.
The TITAN-100 display unit is fitted with a dimming system. When used as a repeater, the dimming of the main unit and the repeater can be synchronized.
Want to know more?
Contact one of our specialists for more information or a quotation, they are more than willing to assist.